Rahul and Bumrah's fitness and form, Kuldeep's striking power in middle overs biggest gains heading into the World Cup
"Arre baad me phodo yaar, World Cup jeetne ke baad me phodo,"
"Arre baad me phodo yaar, World Cup jeetne ke baad me phodo," was India skipper Rohit Sharma's humorous response after his first answer in the post-match press conference was interrupted for almost a minute because of crackers going off in Colombo.
India had just thrashed Sri Lanka to win the Asia Cup at the R Premadasa Stadium on Sunday and the Indian skipper was chuffed. Far from how he was when India boarded the flight to travel to Sri Lanka. Along with their kitbags, the team members may have traveled with apprehension too.
Jasprit Bumrah was coming back from a lengthy lay-off as were Shreyas Iyer and KL Rahul
There were concerns regarding the middle-order too. However, after Sunday, things look to be falling in place for the World Cup, which India will host from October 5.
IND vs SRI LANKA ASIA CUP 2023 FINAL: India lifts Asia Cup after 5 years, Sri Lanka all out at 50
Rohit was happy that in the Asia Cup, India were tested by strong opposition in different facets of their games.

"The way Hardik and Ishan played vs Pakistan (group stage in Pallekele) after we were 66 for 4 and the maturity, they showed to play the way they wanted to play. We were relaxed in the dressing room. KL Rahul's hundred vs Pakistan (Super Four, Premadasa) after being informed at the last minute that he was in the playing XI. Virat's hundred and the way Kuldeep Yadav bowled vs Pakistan and while defending 213 vs Sri Lanka and the way our pacers have bowled, makes you happy," Rohit explained.
The Asia Cup triumph would taste sweet for player of the series Kuldeep too as he has been tirelessly working on a remodeled run-up and action. "Loving my bowling right now," he said. "It's not about wickets but just worrying about lengths. I have worked hard on that. Credit goes to Rohit bhai. He encouraged me to work on my speed," he added.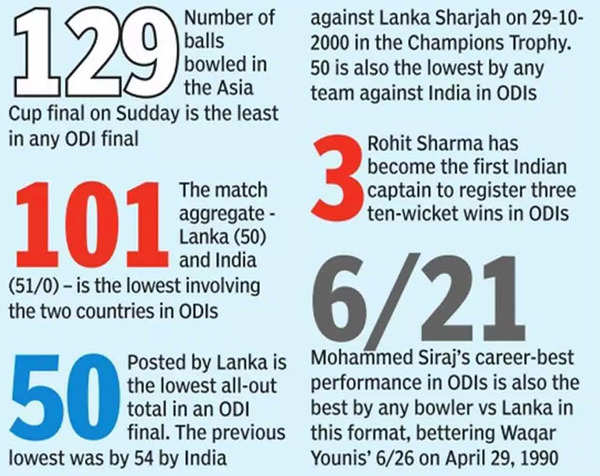 Rahul admitted to having self-doubts after a niggle forced him to miss the Pallekele leg of the tournament. But he said he is in a better space now. "I got to play some good games against competitive teams. I scored runs and was good with the gloves. So, a few boxes ticked."
Having trained on the flat surfaces in Bengaluru after surgery, Rahul was thankful for the struggle he and other batters went through in Colombo. "Playing spin will be important in the middle overs in the World Cup, looking forward to that challenge. It's good to play games where bowlers get help," he stated.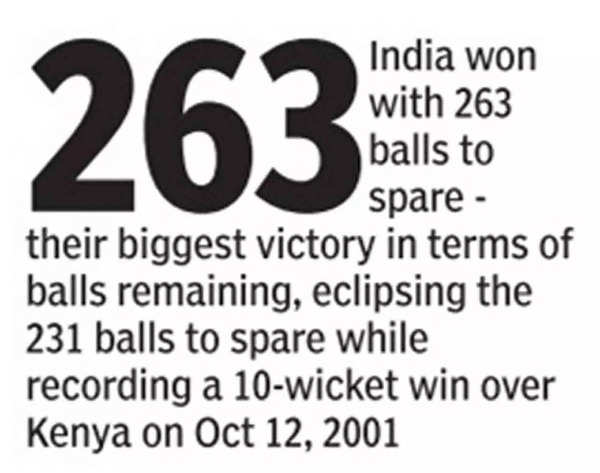 While injuries to Axar Patel left both coach Rahul Dravid and skipper Rohit worried, they seem to have back-up plans
The box that's left to tick is Shreyas Iyer's fitness. "Axar had a small tear. Maybe it will take a week or 10 days to heal. I am not sure whether he will be able to play the first two games against Australia," he said.
Rohit was more precise while talking about Iyer. Iyer had suffered back spasms ahead of India's Super 4 game against Pakistan and after pulling out at the last minute, hasn't played.
The skipper also said veteran offie R Ashwin, who turned 37 on Sunday and who is training at the NCA, is in line to make the World Cup squad as a bowling allrounder.
He last played ODI cricket in South Africa in January 2022.
"As a spinner-allrounder, Ashwin is in the line. I have been talking to him on the phone. Axar's injury happened late on Friday. Washington was available and was cricket-fit because he was part of the Asian Games camp, so he was picked," he concluded.