Vijay Deverakonda's Father's Strong Counter to Producer Abhishek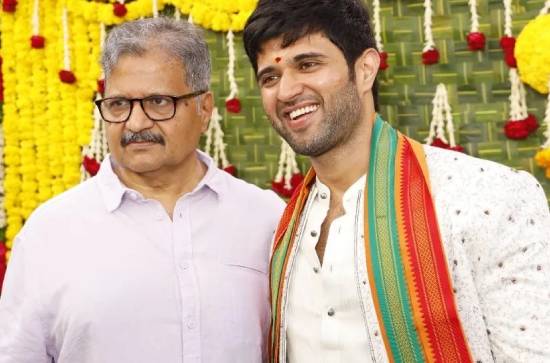 World Famous Lover Flop
Vijay Deverakonda's World Famous Lover(2020) was a terrible disaster at the box office. Vijay Deverakonda received a certain good amount of remuneration from its producer, KS Rama Rao. On humanitarian grounds, the actor returned half of the remuneration because of the film's failure. Also, he did not take possession of a new residential property offered by Rama Rao which was offered him before the release. In his most recent interview, Vijay's father, Govardhan Rao, made all these claims.
Response from Vijay's Father
In a recent interview with, Vijay Deverakonda's father, Govardhan Rao said Abhishek should move the courts if he felt he owes any money, instead of making what he called 'baseless allegations' against his son Vijay Deverakonda.
Disagreements with Abhishek Nama
He said that they have nothing to do with Abhishek Nama. As a distributor, he had some disagreements with producer K S Rama Rao concerning the losses incurred on World Famous Lover. He is attempting to divert it towards Vijay Deverakonda as he is well-known and a vulnerable target as per Vijay's father. Even though they had nothing to do with him, Govardhan Rao said that they still stayed in touch with Abhishek for humanitarian reasons after the film was released.
Compensation Demands
"What is the need for us to compensate distributors for losses? Above all, when Abhishek approached us, Vijay had signed films with top producers Dil Raju, Mythri Movie Makers and Geeta Arts, so we had no dates to spare"
Legal Action and Allegations
According to Govardhan Rao, Vijay was unaware that we were talking to Abhishek Nama, so dragging his name in is unfortunate. He stated that if there is any money they owe him, he can take recourse to the court of law or trade bodies instead of making silly and baseless allegations against them and these blackmail tactics will not be effective.
The Involvement of Bollywood Director
According to Govardhan Rao, at that time he demanded that a Bollywood director like Sanjay Leela Bhansali or Telugu Star director Sukumar be hired for his son's movie. Govardhan Rao stated that he used Bhansali as a name to avoid Abhishek Nama, who he felt was incapable of onboarding Bhansali.